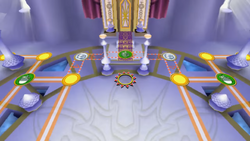 The Castle in the Clouds is an area only accessible from the third floor of Daunting Mountain with the use of an item called Angel Wings. The Angel Wings are only found as a drop item of Rico Jr. In the Castle of the Clouds, players are able to find a large variety of different items, money and even equipment, not to mention Battle Magic as well. Most importantly, the Hero License is only found there on an Item Space or White Loot Space.
Battle Magic Located in Here
Edit
Field Magic Located in Here
Edit
All Field Magic can be located here.
Items Located Here
Edit
Shields
Wabbit Sheild
Furry Shield
Iron Shield
Large Shield
Knight Shield
Paladin Shield
Silver Shield
Shell Shield
Golden Shield
Ragnarok Shield
Tower Shield