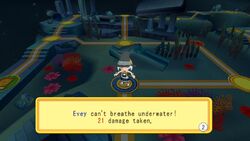 The Sunken Shrine is the only underwater dungeon in Dokapon Kingdom. It is the only source for the Lost Technology, which is required for the Robo Knight Job. It is located in a spinning whirlpool in the top right of the Llano continent.
Adventurers in this dungeon will take damage equal to their level each turn unless they have an Air Ring equipped.
There are no stores in this dungeon.
Every Item Space, Magic Space, Money Space, Red Loot Space, and White Loot Space in the Sunken Shrine contains the following equally likely possibilities:
Sunken Shrine Money Space (10 Slots)

| | | | | | |
| --- | --- | --- | --- | --- | --- |
| 1,000G | 2,000G | 3,000G | 5,000G | 10,000G | 10,000G |
| 10,000G | 10,000G | 20,000G | 20,000G | 20,000G | 30,000G |
| 30,000G | 50,000G | 50,000G | 50,000G | 50,000G | 50,000G |
| 50,000G | 100,000G | 100,000G | 100,000G | 100,000G | 100,000G |
| 100,000G | 150,000G | 150,000G | 200,000G | Template:? | Template:? |
Sunken Shrine Red Loot Space (10 Slots)

| | | | | | |
| --- | --- | --- | --- | --- | --- |
| Ring of Power | Ring of Defense | Ring of Magic | Ring of Speed | Angel Ring | Crystal Choker |
| Angel Choker | Angel Choker | Flambard | Flambard | Exorcism Spear | 500,000G |
| 500,000G | -100 HP | -200 HP | -500 HP | -1,000 HP | -9,999 HP |
| -1,000G | -5,000G | -10,000G | -30,000G | -50,000G | -100,000G |
| -200,000G | Random Warp | Bankrupt | Item -1 | Item -2 | Item -3 |
| Magic -1 | Magic -2 | Magic -3 | Poison | Footsore | Sleep |
| AT Down | DF Down | MG Down | SP Down | Fear | Seal |