Here's a list of useful pages!   (view all pages)
| | |
| --- | --- |
| Equipment | Useful Articles |
News
Want to check out what other users on this Wiki have been talking about? Come check out the Forums!
Go to "Stubs" if you would like to help us, don't be shy!
This Wiki met a "100 Pages" milestone on 8/22/2015!
Featured articles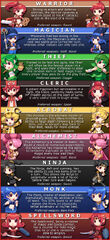 Jobs are a major aspect to Dokapon Kingdom. Your choice in job can affect many things in how your character grows on their journey.
Read the rest at Jobs.
---
Monsters are creatures in Dokapon Kingdom who's main goal is to kill you. They hide out on Empty Spaces, take over Towns, and charge in when summoned by an Adventurer (via Conjure, Conjure All or Town Conjure) or a Boss.
Read the rest at Monsters.
---
Adventurers are the player or AI-controlled Characters who fight Monsters, liberate Towns, and are the heroes of Dokapon Kingdom. They are sorted into different Jobs, or classes.
Read the rest at Adventurers.
Featured media