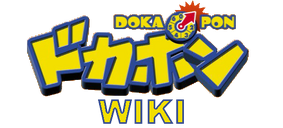 | | |
| --- | --- |
| Equipment | Some Useful Articles |
News
If you have the Dolphin emulator, you should be able to apply custom textures easily. Custom texture packs can be found here: Texture Packs
If you feeling like checking out what other users on this wiki have been talking about, Come see our Forum.
Go to "Stubs" if you would like to help us.
As of 10/18/2016, This wikia has met a "150 pages" milestone. Our goal is to reach "250 pages" in 2017.
The history of this wiki is here. If you know more, you can help us by expanding it, though it's hard because Special:WikiStats (consists top users, anonymous edits, etc.) does not work now.
Please see Help:Blocked before you edit, thanks. We do not hope if someone gets blocked.
Polls
Main article: Dokapon Wiki:Polls
Featured articles (FA)
Jobs
are a major aspect to
Dokapon The World
and
Dokapon Kingdom
. Your choice in job can affect many things in how your character grows on their journey.
Read the rest at Jobs.
---
Monsters are creatures in the Dokapon Series who's main goal is to kill you. They hide out on Empty Spaces, take over Towns, and charge in when summoned by an Adventurer (via Conjure, Conjure All or Town Conjure) or a Boss.
Read the rest at Monsters.
Languages, if any
Without any further ado..
Let the game start!
Ad blocker interference detected!
Wikia is a free-to-use site that makes money from advertising. We have a modified experience for viewers using ad blockers

Wikia is not accessible if you've made further modifications. Remove the custom ad blocker rule(s) and the page will load as expected.