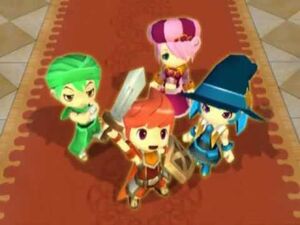 Playing the DX version? See Weapon Skills.
Here is a list of all the Battle Skills Adventurers can get in Dokapon Kingdom. New skills can be obtained by leveling up a Job to level 2 or 4.
Notes:
Every time you switch to a different Job, except the Darkling, you always have the Battle Skill "Charge".
All buffs caused by Adventurer Battle Skills will only last the Battle.
| Name | Job | Mastery | Description |
| --- | --- | --- | --- |
| ???? | Acrobat | 4 | Will have a random Skill effect (except for ???? and these). |
| Afterburn | Monk | 4 | Increases all stats by 50%, but halves your HP after battle. |
| Alchemy | Alchemist | 2 | Creates Gs from damage done in Battle. |
| Chakra | Spellsword | 2 | Raises your AT and MG by 50%. |
| Charge | All (except for Darkling) | 1 | Raises AT by 50%. Can Stack. |
| Copy | Robo Knight | 2 | Copies the enemy's stats if higher than yours. |
| Debug | Alchemist | 4 | Reduces the enemy's HP to 1. Misses often, the chance of missing is about 87.5%. |
| Delete | Darkling | N/A | Erases your enemy's Weapon, Shield, Accessory, Offensive Magic, Defensive Magic, All G, All Items, or All Field Magic. Delete cannot be used against a Darkling if it created through ????. |
| Decoy | Ninja | 4 | Protects you from physical and magical attacks 50% of time. |
| Escape | Thief | 4 | Escape from Battle without punishments. |
| Glory | Hero | 2 | Forces any enemies who are not protecting their Towns/Darkling to Give Up. |
| Guard | Hero | 4 | Raises random stats by 50%. |
| Harden | Robo Knight | 4 | Chance to nullify physical attacks. |
| Heal | Cleric | 2 | Recovers all/half of your HP. |
| Meditate | Magician | 2 | Doubles MG. Can Stack. |
| Muscle | Warrior | 2 | Raises AT and DF by 50%. |
| Overload | Warrior | 4 | Triples AT, but has a chance to reduce your AT by half. |
| Pierce | Spellsword | 4 | Your next attack will ignore your enemy's defense. |
| Play Dumb | Acrobat | 2 | Chance to nullify magical attacks. |
| Prayer | Cleric | 4 | Heals 50% of your total HP and cures some Status ailments. |
| Restrict | Magician | 4 | Seals a random Battle Command. |
| Sneak Hit | Ninja | 2 | Reduces enemy HP by 50%, with a chance of instant kill. It cannot be used against a Darkling. |
| Soul Fire | Monk | 2 | Raises AT by 50% every round you are in battle. |
| Steal | Thief | 2 | Steals an Item or a Field Magic. |